Susan Jane Guerguy
1944 - 2021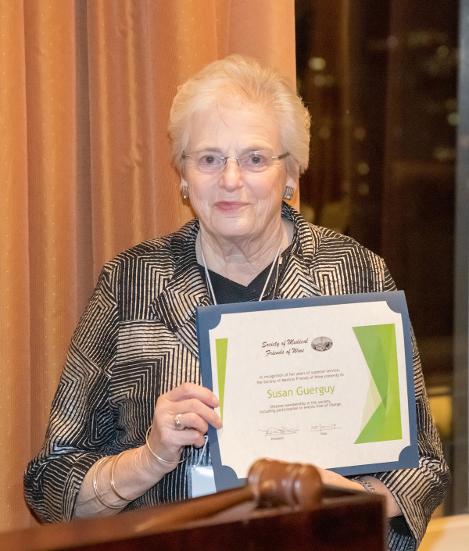 Susan was the beloved former Executive Secretary of the Society of Medical Friends of Wine. She retired in January, 2019 after many years of service to the Society.
The following is Susan's obituary, which was published by the East Bay Times on November 7, 2021:
Susan Jane Guerguy
January 2, 1944 - September 27, 2021
Resident of Walnut Creek, CA
Susan enjoyed a remarkable life. Her character was forged through her childhood in England and fond memories of family vacations in and around Murren, Switzerland. After graduating from The École Hôtelière de Lausanne, consistently regarded as the best hospitality school in the world, she left Europe for a job opportunity in the Bahamas. During her years there she met her future husband, Chef Robert Guerguy. In 1973 they left the Bahamas to immigrate to San Francisco, which became their home temporarily until they settled in Walnut Creek in 1974 where she lived the remainder of her life.
Susan excelled in a broad range of professional endeavors, from hotelier and restaurateur providing fine French cuisine at Le Marquis in Lafayette to executive secretary of the Society of Medical Friends of Wine, and acting as multilingual tour guide within the Western United States and San Francisco Bay area. She had an unwavering positive attitude and was inquisitive about the world and people around her. Whether attending the opera, symphony, theater, Commonwealth Club or the latest museum exhibition, her keen intellect, integrity, and sense of humor enriched the lives of all who knew her. Susan was a two-time breast cancer survivor and faced her most recent terminal illness with courage and strength consistent with the dignity and grace she brought to life every day.
Susan is survived by her son Marc and daughter Valerie and her two beloved granddaughters Sofia and Emma.
The Executive Committee of the society, after consultation with Susan's son and daughter, have established a fund to honor her memory. Donations to this fund will be used to sustain the Society and to expand the educational activities of the Society that were so near and dear to Susan's heart during her long tenure with us.
Donations to the fund may be made out to the Society of Medical Friends of Wine, with notation they are for the Susan Guerguy memorial fund, and sent to Society of Medical Friends of Wine, 4460 Redwood Highway, Suite 16 PMB110, San Rafael, CA 94903. They may also be made through PayPal using the yellow "Donate" button on the homepage of this website.
Copyright Society of Medical Friends of Wine